Weddings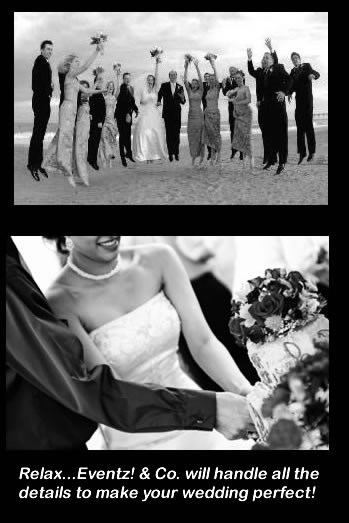 You've definitely come to the right place for assistance with your wedding! Eventz! & Co. (formerly Eventz!) provides efficient, detailed planning whether you're considering an intimate celebration, a large gala, a black tie affair or a back yard gathering.
Regardless of where you currently stand with your wedding plans, Eventz! & Co. will be a welcomed asset. The average wedding consumes about two hundred and fifty hours of planning. We're available to assist with as much or as little as you wish. Consultants are no longer a luxury, but a wise addition to one of life's most important events. Guidance from Eventz! & Co. will ensure you of making well informed decisions. An excellent rapport has been developed with many vendors through our long-standing reputation for thorough, dependable planning and performance. Eventz!& Co. takes pride in saving you time, money, and maybe more importantly - your sanity.
We'll begin with a free consultation to become acquainted before you make any commitment. We'll discuss exactly what you envision, how much you plan to spend, & how we may assist in making this happen. Whatever your wishes, Eventz! & Co. will do our best to make them a reality. Ongoing consultations will be conducted to thoroughly understand your expectations, monitor progress and make sure everything and everyone is on schedule.
Once you're big day is here, Eventz! & Co. will conduct the wedding rehearsal and direct the ceremony, guiding everyone so they are comfortable in knowing what to do. You don't have to worry about awkward moments. We'll be on site to make sure all the last minute details are perfect. Leave it to Eventz! & Co. to act as liaison between the caterer, the photographer, the entertainment and anyone else involved. Orchestrating bridal party introductions, special dances, cake cutting, Champagne toast . . . even packing the gifts will be our responsibility so you are free to enjoy your celebration with family and guests. Contact us!